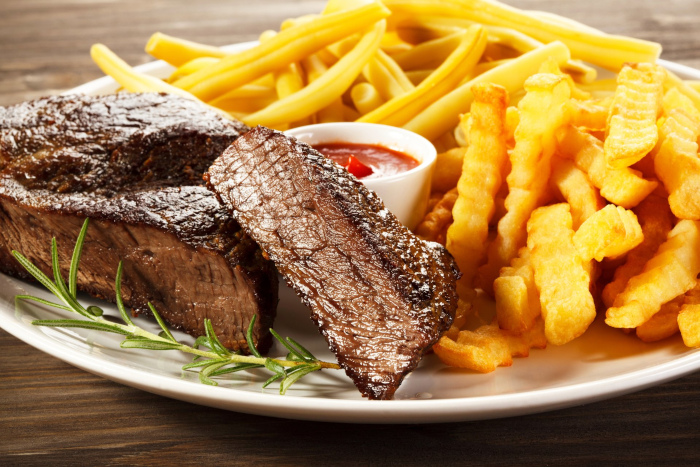 Sunnats and Aadaab after Eating
1. After eating, thoroughly clean the plate or any other utensil which you are eating from (bowl, etc.). It is reported in the Hadith that the utensil makes dua of forgiveness for the one who cleans it after eating.[1]
2. After eating, lick your fingers. First lick the middle finger, then the index finger, and finally the thumb.[2]
عن أبي هريرة عن النبي صلى الله عليه وسلم قال: إذا أكل أحدكم فليلعق أصابعه فإنه لا يدري في أيتهن البركة (صحيح مسلم، الرقم: ٢٠٣٥)
Hazrat Abu Hurairah (radhiyallahu 'anhu) reports that Hazrat Rasulullah (sallallahu 'alaihi wasallam) said, "When any of you eats any food, then he should lick his fingers, as he does not know which morsel of food contains the special blessings of Allah Ta'ala."
3. Recite the following dua after eating:
اَلْحَمْدُ لِلّٰهِ الَّذِيْ أَطْعَمَنَا وَسَقَانَا وَجَعَلَنَا مُسْلِمِيْنَ
All praise is due to Allah Ta'ala who gave us food and drink and made us Muslims. [3]
4. After completing the meal, first pick up the food from the dastarkhaan before getting up and leaving. While removing the dastarkhaan, the following dua should be read:
اَلْحَمْدُ لِلّٰهِ حَمْدًا كَثِيْرًا طَيِّبًا مُبَارَكًا فِيْهِ غَيْرَ مَكْفِيٍّ وَلَا مُوَدَّعٍ وَلَا مُسْتَغْنًى عَنْهُ رَبَّنَا
All praise is due to Allah Ta'ala, such praises that are plentiful, pure and full of blessings. O our Rabb, we do not regard our praises to be sufficient (for the food You have granted us), nor do we regard our praise to be the final and last praise (for what You have granted us), and nor do we consider ourselves to be independent (of praising You for all that You have granted us). [4]
5. After eating, wash both the hands and gargle the mouth.[5]
---
[1] ومن السنة لعق القصعة كذا في الخلاصة (الفتاوى الهندية ٣٣٧/٥)
عن أم عاصم قالت دخل علينا نبيشة مولى رسول الله صلى الله عليه وسلم ونحن نأكل في قصعة فقال: قال النبي صلى الله عليه وسلم: من أكل في قصعة فلحسها استغفرت له القصعة (سنن ابن ماجة، الرقم ٣٢٧١، سنن الترمذي، الرقم: ١٨٠٤، وقال: هذا حديث غريب لا نعرفه إلا من حديث المعلى بن راشد وقد روى يزيد بن هارون وغير واحد من الأئمة عن المعلى بن راشد هذا الحديث)
[2] ومن السنة لعق الأصابع قبل المسح بالمنديل كذا في الوجيز للكردري (الفتاوى الهندية ٣٣٧/٥)
عن محمد بن كعب بن عجرة عن أبيه قال: رأيت رسول الله صلى الله عليه وسلم يأكل بأصابعه الثلاث بالإبهام والتي تليها والوسطى ثم رأيته يلعق أصابعه الثلاث قبل أن يمسحها ويلعق الوسطى ثم التي تليها ثم الإبهام (المعجم الأوسط، الرقم: ١٦٤٩، قال الهيثمي في مجمع الزوائد، الرقم: ٧٩٤١: فيه الحسين بن إبراهيم الأذني ومحمد بن كعب بن عجرة ولم أعرفهما وبقية رجاله ثقات
[3] عن أبي سعيد الخدري أن النبي صلى الله عليه وسلم كان إذا فرغ من طعامه قال: الحمد لله الذي أطعمنا وسقانا وجعلنا مسلمين (سنن أبي داود، الرقم: ٣٨٥٠، قال المناوي في فيض القدير، الرقم: ٩٩١٣ : قال ابن حجر: هذا حديث حسن
[4] سنن الترمذي، الرقم: ٣٤٥٦ وقال: هذا حديث حسن صحيح
[5] والسنة غسل الأيدي قبل الطعام وبعده وآداب غسل الأيدي قبل الطعام أن يبدأ بالشبان ثم بالشيوخ وبعد الطعام على العكس كذا في الظهيرية (الفتاوى الهندية ٣٣٧/٥)
عن أبي هريرة أن رسول الله صلى الله عليه وسلم أكل كتف شاة فمضمض وغسل يديه وصلى (سنن ابن ماجه، الرقم: ٤٩٣ وقال البوصري في مصباح الزجاجة، الرقم: ٢٠٢ : هذا إسناد رجاله ثقات)
عن سلمان قال: قرأت في التوراة أن بركة الطعام الوضوء بعده فذكرت ذلك للنبي صلى الله عليه وسلم فأخبرته بما قرأت في التوراة فقال رسول الله صلى الله عليه وسلم: بركة الطعام الوضوء قبله والوضوء بعده (سنن الترمذي، الرقم ١٨٤٦، وقيس بن الربيع صدوق وفيه كلام لسوء حفظه لا يخرج الإسناد عن حد الحسن كما في الترغيب والترهيب، الرقم: ٣٢٤٧