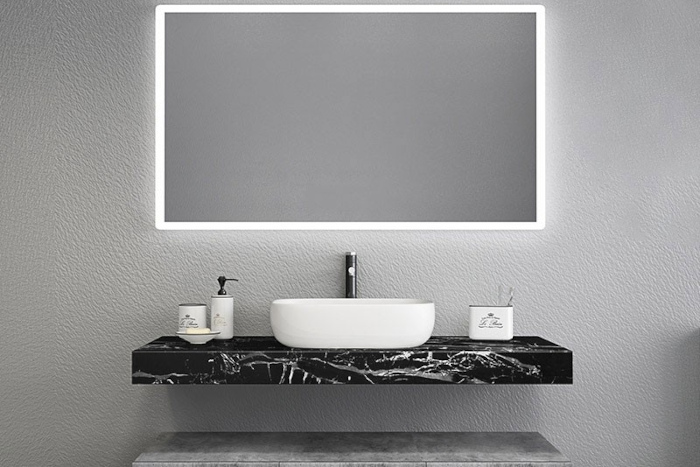 1. When making istinjaa, use clods of sand[1] (or toilet paper) as well as water to clean yourself. Ensure that you fill the jug with water before relieving yourself, as you may put yourself through difficulty if there is no water.[2]
عن أبي هريرة رضي الله عنه عن النبي صلى الله عليه وسلم قال نزلت هذه الآية في أهل قباء فيه رجال يحبون أن يتطهروا قال كانوا يستنجون بالماء فنزلت فيهم هذه الآية (سنن الترمذي، الرقم: 3100)[3]
Sayyiduna Abu Hurairah (radhiyallahu 'anhu) reports that Sayyiduna Nabi (sallallahu 'alaihi wasallam) said, "The aayah فِيْهِ رِجَالٌ يُحِبُّوْنَ أَنْ يَتَطَهَّرُوْا  (in it are men who like to observe purity) was revealed regarding the people of Qubaa on account of them making istinjaa with water."
قال علي رضي الله عنه إن من كان قبلكم كانوا يبعرون بعرا وإنكم تثلطون ثلطا فأتبعوا الحجارة بالماء (المصنف لابن أبي شيبة، الرقم: 1645)
Sayyiduna Ali (radhiyallahu 'anhu) mentioned, "The stool of the people before you was dry and hard and the stool of you people is more soft (i.e. due to the nature of their food being different). Therefore, make istinjaa with clods of sand and thereafter cleanse with water (as soft stool soils the area around the passage)."
2. Use your left hand to clean yourself. To make istinjaa with the right hand is makrooh. Similarly, do not touch the private part with the right hand.[4]
عن عبد الله بن أبي قتادة عن أبيه رضي الله عنه عن النبي صلى الله عليه وسلم قال إذا بال أحدكم فلا يأخذن ذكره بيمينه ولايستنجي بيمينه (صحيح البخاري، الرقم: 154)
Sayyiduna Abdullah bin Abi Qataadah (radhiyallahu 'anhu) narrates from his father that Sayyiduna Nabi (sallallahu 'alaihi wasallam) said, "When any of you relieves himself then he should not hold his private part with his right hand nor should he make istinjaa with his right hand."
3. Exit the toilet with the right foot and thank Allah Ta'ala for allowing the waste to leave your body and for blessing you with good health. The manner of thanking Allah Ta'ala is to recite the following dua upon leaving the toilet after relieving yourself: See 17 and 23
غُفْرَانَكَ اَلْحَمْدُ لِلّٰهِ الَّذِيْ أَذْهَبَ عَنِّيْ الْأَذٰى وَعَافَانِيْ[5]
O Allah Ta'ala, I seek Your forgiveness. All praise is due to Allah Ta'ala who has removed from me impurity and filth (that would have been harmful if it remained in my body) and granted me relief and ease.
Note: One should repeat the word غفرانك thrice and thereafter recite the remainder portion of the dua once.[6]
One may also recite the following duas:
اَلْحَمْدُ لِلّٰهِ الَّذِيْ أَذْهَبَ عَنِّيْ مَا يُؤْذِيْنِيْ وَأَمْسَكَ عَلَيَّ مَا يَنْفَعُنِيْ[7]
All praise is due to Allah Ta'ala who has removed from me that which harms me and kept within me that which benefits me.
اَلْحَمْدُ لِلّٰهِ الَّذِيْ أَذَاقَنِيْ لَذَّتَهُ وَأَبْقٰى فِيَّ قُوَّتَهُ وَأَذْهَبَ عَنِّيْ أَذَاهُ[8]
All praise is due to Allah Ta'ala who allowed me to enjoy the taste (of the food), and retained within me its nourishment (and energy), and removed from me its harm (i.e. the harm of the food after it was transformed into waste).
---
[1] It is permissible to use pure clay 'lumps' of dry earth, dry mud lumps or stones for istinjaa, provided the body is properly cleaned. The stone should be rough enough in such a manner that all dirt can be removed.
The conditions for using stones are as follows:
Three stones should be used (or even three sides of one stone in the case where one stone is sufficient to remove impurities). The sunnah is to use an odd number of stones.
The impurity should not be completely dry (if the impurity becomes dry, using a stone will no longer suffice and one will have to use water).
The impurity should not soil the area around the anal passage and exceed it.
There should not be any other najaasah on the private parts to be cleaned, like water which splashed up from the toilet pan, or najaasah which splashes back due to wind or other obstacles.
The stone, clay, dry mud lumps, etc., to be used must be taahir (pure).
Water should not splash onto the stone (it will not be valid to use a wet stone).
وفي معنى الحجر كل جامد طاهر قالع غير محترم … وشرط الحجر أن لا يجف النجس ولا ينتقل ولا يطرأ أجنبي ولو ندر أو انتشر فوق العادة ولم يجاوز صفحته وحشفته جاز الحجر في الأظهر، ويجب ثلاث مسحات ولو بأطراف حجر فإن لم ينق وجب الإنقاء وسن الإيتار وكل حجر لكل محله
(و) أن (لا يطرأ) عليه (أجنبي) نجسا كان أو طاهرا رطبا ولو بلل الحجر كما شمله إطلاق المصنف (مغني المحتاج 1/139-143)
وفي معنى الحجر كل جامد طاهر قالع غير محترم  … وشرط الحجر أن لا يجف النجس ولا ينتقل ولا يطرأ أجنبي ولو ندر أو انتشر فوق العادة ولم يجاوز صفحته وحشفته جاز الحجر في الأظهر، ويجب ثلاث مسحات ولو بأطراف حجر فإن لم ينق وجب الإنقاء وسن الإيتار وكل حجر لكل محله
(و) أن (لا يطرأ) عليه (أجنبي) نجسا كان أو طاهرا رطبا ولو بلل الحجر كما شمله إطلاق المصنف (مغني المحتاج 1/139-143)
[2] قال المصنف رحمه الله (واذا أراد الاستنجاء نظرت فان كانت النجاسة بولا أو غائطا ولم تجاوز الموضع المعتاد جاز بالماء والحجر والافضل أن يجمع بينهما … فان أراد الاقتصار على أحدهما فالماء أفضل لأنه ابلغ في الانقاء وان أراد الاقتصار على الحجر جاز …) … أما حكم المسألة فقال أصحابنا يجوز الاقتصار في الاستنجاء على الماء ويجوز الاقتصار على الأحجار والأفضل أن يجمع بينهما فيستعمل الأحجار ثم يستعمل الماء (المجموع شرح المهذب 2/81-83)
الأفضل أن يجمع في الاستنجاء بين الماء والجامد، ويقدم الجامد. فإن اقتصر، فالماء أفضل (روضة الطالبين 1/181)
[3] وأما حديث أبي هريرة رضي الله عنه فأخرجه أبو داود والترمذي وابن ماجه مرفوعا قال نزلت هذه الآية في أهل قباء فيه رجال يحبون أن يتطهروا والله يحب المطهرين قال كانوا يستنجون بالماء فنزلت فيهم هذه الآية وسنده ضعيف وفي الباب أحاديث صحيحة أخرى ومن هنا ظهر أن قول من قال من الأئمة إنه لم يصح في الاستنجاء بالماء حديث ليس بصحيح (تحفة الأحوذي 1/94)
[4] أما حكم المسألة فقال الأصحاب يكره الاستنجاء باليمين كراهة تنزيه ولا يحرم (المجموع شرح المهذب 2/88)
المستحب أن يستنجي باليسار (روضة الطالبين 1/181)
[5] عن عائشة رضي الله عنها قالت كان النبي صلى الله عليه وسلم إذا خرج من الخلاء قال غفرانك قال أبو عيسى هذا حديث حسن غريب (سنن الترمذي: الرقم: 7)
قوله (هذا حديث غريب حسن) قال القاضي الشوكاني في نيل الأوطار هذا الحديث أخرجه الخمسة إلا النسائي وصححه الحاكم وأبو حاتم قال في البدر المنير ورواه الدارمي وصححه ابن خزيمة وابن حبان انتهى (تحفة الأحوذي 1/50)
عن أنس بن مالك رضي الله عنه قال كان النبي صلى الله عليه وسلم إذا خرج من الخلاء قال الحمد لله الذي أذهب عني الأذى وعافاني (سنن ابن ماجة، الرقم: 301)
قال الشيخ محمد عوامة في تعليقه (1/225): رواه ابن السني في عمل اليوم والليلة (25) والطبراني في كتاب الدعاء له (370) وقد قال الحافظ فيه في نتائج الأفكار (1/198): حسن غريب وحبان فيه ضعف وكذا فى شيخه لكن للحديث شواهد
[6] (و) يقول ندبا (عند) أي عقب (خروجه) أو انصرافه (غفرانك: الحمد لله الذي أذهب عني الأذى وعافاني) للاتباع، رواه النسائي.
ويكرر غفرانك ثلاثا (مغني المحتاج 1/160)
[7] عن طاؤس قال قال رسول الله صلى الله عليه وسلم إذا خرج أحدكم من الخلاء فليقل الحمد لله الذي أذهب عني ما يؤذيني وأمسك علي ما ينفعني (المصنف لابن أبي شيبة، الرقم: 12)
[8] عن ابن عمر رضي الله عنهما أن النبي صلى الله عليه وسلم كان إذا دخل الخلاء قال اللهم إني أعوذ بك من الرجس النجس الخبيث المخبث الشيطان الرجيم وإذا خرج قال الحمد لله الذي أذاقني لذته وأبقى في قوته وأذهب عني أذاه (عمل اليوم والليلة لابن السني، الرقم: 25)