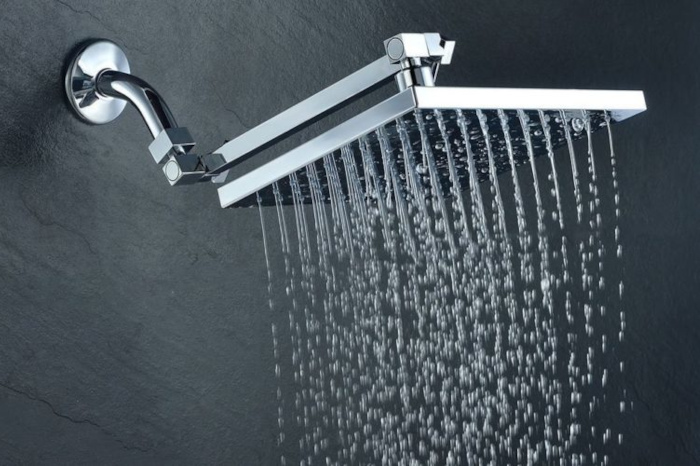 1. Do not take too long in the bathroom, especially if it is a common bathroom which others also use.[1]
2. Do not mess the bathroom with unwanted hair.[2]
3. Be considerate when using hot water. Do not use so much that those coming after you are inconvenienced by not having enough hot water.[3]
4. After bathing, wipe the body with a cloth or towel.[4]
5. Hasten to cover the body after bathing.[5]
6. Do not urinate in the shower.[6]
---
[1] وفي الأصل من الادب أن لا يسرف في الماء ولا يقتر كذا في الخلاصة وهذا إذا كان ماء نهر أو مملوكا له فإن كان ماء موقوفا على من يتطهر أو يتوضأ حرمت الزيادة والإسراف بلا خلاف كذا في البحر الرائق (الفتاوى الهندية ١/٨)
(وسننه) أي سنن الغسل كسنن الوضوء سوى الترتيب وآدابه كآدابه سوى استقبال القبلة لأنه يكون غالبا مع كشف عورة (الدر المختار ١/١٥٦)
(ومن آدابه) أي آداب الوضوء … (استقبال القبلة ودلك أعضائه) … (والجلوس فى مكان مرتفع) (الدر المختار ١/١٢٧)
[2] وإذا قص أظفاره أو حلق شعره ينبغي أن يدفنه قال تعالى ألم نجعل الأرض كفاتا أحياء وأمواتا وإن ألقاه فلا بأس به ويكره إلقاؤه في الكنيف والمغتسل قالوا لأنه يورث المرض (الاختيار ٤/١٦٧)
[3] عن عبد الله بن عمرو رضي الله عنهما عن النبي صلى الله عليه وسلم قال المسلم من سلم المسلمون من لسانه ويده والمهاجر من هجر ما نهى الله عنه (صحيح البخاري، الرقم: ١٠)
[4] (وههنا سنن وآداب ذكرها بعض المشايخ) يسن أن يبدأ بالنية بقلبه ويقول بلسانه نويت الغسل لرفع الجنابة أو للجنابة ثم يسمي الله تعالى عند غسل اليدين ثم يستنجي كذا في الجوهرة النيرة وأن لا يسرف في الماء ولا يقتر وأن لا يستقبل القبلة وقت الغسل وأن يدلك كل أعضائه في المرة الأولى وأن يغتسل في موضع لا يراه أحد ويستحب أن لا يتكلم بكلام قط وأن يمسح بمنديل بعد الغسل كذا في المنية (الفتاوى الهندية ١/١٤)
[5] عن زرعة بن مسلم بن جرهد الأسلمي عن جده جرهد قال مر النبي صلى الله عليه وسلم بجرهد في المسجد وقد انكشف فخذه فقال إن الفخذ عورة هذا حديث حسن ما أرى إسناده بمتصل (سنن الترمذي، الرقم: ٢٧٩٥)
[6] عن عبد الله بن مغفل أن النبي صلى الله عليه وسلم نهى أن يبول الرجل في مستحمه وقال إن عامة الوسواس منه (سنن الترمذي، الرقم: ٢١)
ويكره أن يبول في موضع يتوضأ فيه أو يغتسل كذا في السراج الوهاج (الفتاوى الهندية ١/٥٠)